Here's the sitch – we've been opening our arms to as many fresh and passionate California brands that we can. And, in the past couple months, we've redesigned our shop and filled the shelves with so many different companies' things we can't even count them on one hand! (Okay, you caught us, it only takes two. But still pretty cool, right?)
The thing is, we can only yell on our Instagram megaphone so much – but we feel like we'd be doing everyone in Santa Cruz a dis-service if we didn't tell y'all what we're carrying! So here's a little recap, in alphabetical order. And because we love them all equally, we didn't know who to start with. So here's an exhaustive list of the brands we're currently carrying in the shop!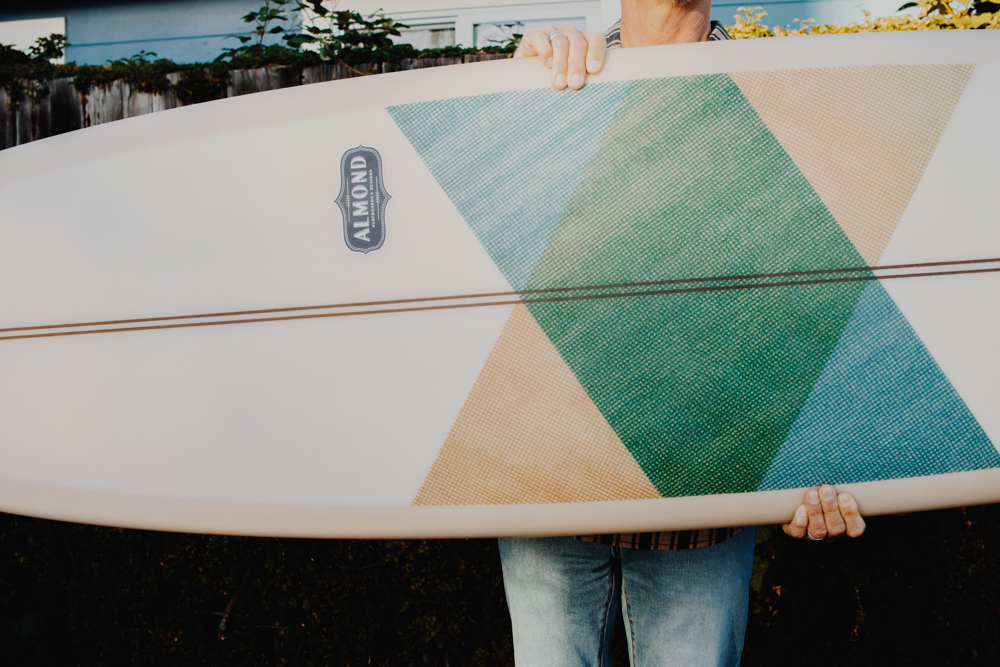 A small but mighty team of people from Costa Mesa, CA. Their thing is making "good, honest stuff for good, honest people." And honestly they do an incredible job. We finally got some of their boards and fins in the shop this past week – and we couldn't be happier. Especially because one of their biggest goals is to blend quality with durability and make boards that people hand down to the next generation.
Quality towels designed to keep away odor and mildew. Our friend JJ Wessels' got some mad style goin' on with these. And they're affordably priced, too. Perfect birthday gift? It's feeling like a yes.
Ben was one of our first friends here in Santa Cruz. A self-taught board shaper who's been perfecting his craft since 2007. He's one of those dudes who makes you feel like you're important. Especially when he hands you the perfect board you're stoked to ride every time you set foot fin in the water. Currently his boards are represented in Bali, South Africa, Mexico, Central America, Peru, and Hawaii – as well as right here in Santa Cruz.
Check out his website.
CJ has established himself all around California – including San Clemente, San Francisco, and Santa Cruz – creating brands you've probably heard of (which we'll leave a secret) as well as making a name for himself. After winning competitions and landing magazine covers, he's been a huge inspiration for the shop and has privileged us with carrying his gear. Now, he helps shapes boards and tries his best to be Here & Now – wherever he goes. (We also carry CJ's fins, called Flying Diamond Fins.)
Surf photos: James Tull and Justin Bowers, respectively.
These guys make sure their apparel stays true to the identity of California. Basing their style off the real, authentic experience they've lived in Santa Cruz, City Fog makes some rad stuff. And on any given day, City Fog is the clothing of choice for people paying homage to California.
Crime Surfboards was born just this past year, so most of who they are is as new to us as it is to you. What we can tell you: People are loving them. They're the perfect board in-between a soft-top and a full fledged, professionally shaped longboard. Because, well, they're basically both. Come in to the shop to see them, or check out their instagram.
Featured on platforms from the Wall Street Journal to Stab Magazine and everything in between, Kassia+Surf is a California born-and-raised company that focuses on quality, environmental friendly products. Right now, we are only carrying the wax she makes (yeah, Kassia is also the founder's name). And by the way, her wax is made with Palo Santo tree essence, which is known around the world as a natural medicine and cleanser. Check out her stuff, she has some pretty incredible wetsuits, lycra, and other surf gear.
Check out her website.
What started in a garage in Oceanside, CA has now grown into one of the most trusted surf products for big and small waves alike. Stay Covered has a rad story and some quality, California-made stuff. You should seriously consider them next time you need a board bag, a leash, or even just a new t-shirt.
Surprised you're just now seeing a product that has to do with hair? We are too – we've got a lot on our plate and we're loving it! Anyways, Uppercut has been our product of choice since we opened. If we've ever asked you if you wanted product at the end of your cut, this is what we've used. As a company they do some rad things. Which is why we not only carry their pomade, but we've also got you covered with beard balm and combs, too!
RFC Fins (With our very own W&F Logo):
Last but not least, our very own Waves & Fades Surfboard fins. Well, kind of. Early on in our existence, we partnered up with Rainbow Fin Company to design some fins for us! So, we carry professional fin models with a little Waves and Fades flare on them, just to keep it real.
*Update: We keep getting more brands and can't keep up. In the future we'll have another post about who we're carrying, but for now you should come in and check everything out. But, if you've already used up your people time for the day, feel free to check out some of our team riders here!